The European Wold Newton Universe

Timeline
(1931-1945)



1931. Olaf Karl Abelsen discovers an undersea passage into the Lidenbrock Sea. ("The Secret of the Sea," Olaf Karl Abelsen - Abseits der Alltagswege #37, 1932; Lidenbrock Sea from Jules Verne's Journey to the Center of the Earth)

John Baxter attends Nic Pratt's wedding. (John Baxter der Detektiv #33, 1931). Later in the year Baxter pursues his old enemy, Lord Lister. (John Baxter der Detektiv #38, 1931).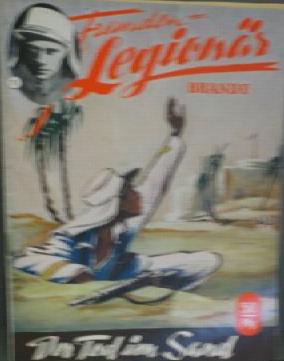 Rolf Brandt, the son of Heinz Brandt, begins services in the French Foreign Legion. (Fremdenlegionär Brandt, beginning in 1956).

The Viennese blind detective Billy Dogg begins solving crimes. Although based in Vienna he and his dog and his best friend travel around the world, solving crimes wherever they go. He quickly gains a well-deserved reputation for intellectual acuity. (Billy Dogg, Der Blinde Meisterdetektiv #1-12, 1931).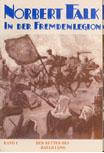 Norbert Falk, a German expatriate, joins the French Foreign Legion and distinguishes himself as a partricularly brave soldier. He assists the Legion in putting down various native uprisings in Africa and Southeast Asia for the next several years. (Norbert Falk in der Fremdenlegion #1-105, 1931-1933).

The French detective Solange Fontaine comes to the French public's attention with a series of strange cases successfully solved. (F. Tennyson Jesse's The Solange Stories, 1931).

John Kling teams up with Sexton Blake while pursuing a case in London. ("The Man From Baker Street," John Kling's Abenteuer #501, 1931).

The French policeman Jules Maigret begins his very long career of solving crimes. (Georges Simenon's Maigret novels, beginning with M. Gallet Decédé, 1931).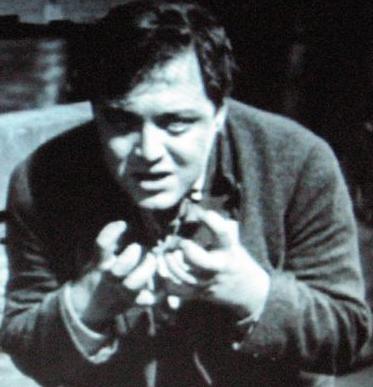 The child murderer Hans Beckert haunts Berlin. (Von Harbou & Lang's M, 1931).

The English "sporting detective" Falcon Swift comes to the attention of the English public. He is an amateur consulting detective whose hobby was sports of all kinds. Swift was a champion at whatever he did, from boxing to cricket, but inevitably his hobby embroiled him in a crime. Swift got a triple blue from Cambridge and, inheriting his dead parents' wealth, began a life of leisure from a "cosy sanctum" in London. Somewhere along the way he saved a street urchin from a life of crime; this urchin, Chick Conway, "the London street urchin whom he (Swift) had literally taken out of the gutter," pledged his lot to Falcon and became his stalwart and fearless assistant (most notable for being kidnaped and threatened, but occasionally proving useful). Swift's Mrs. Hudson is Biddy Malone, who cooked and cleaned for Falcon when she wasn't being clubbed, drugged, or kidnaped. Swift began exercising his hobby, getting into sporting engagements, always for rich rewards. Many of his enemies in the ring (or on the river or on the links) turn out to to be crooks, often members or leaders of international crime rings. Naturally, Swift beats them fairly in sporting competition and then turns them over to the police. He does not always solve sport-oriented crimes; on at least one occasion he enlists undercover in the Black Dragoons to ferret out a traitor. Most memorably, he jousted with the French master criminal Claude Montana, the "arch-crook of five continents," who succeeded in taking the proceeds of the English Cup despite having warned Swift ahead of time.(Edwy Searles Brooks' Falcon Swift stories, beginning with "The Shooting Sleuth," 1931).

The French detective known as "Oscar-Bill" begins solving crimes. Oscar-Bill is a small, bespectacled man, with a thick mustache and a small hat. He is not particularly tough-looking but is world-renowned and as "omniscient as Nick Carter." He's tenacious and always smiles, even at the point of death. Oscar-Bill is assisted by his best friend Toukrak, a journalist, and by his dog, Flok. Oscar-Bill takes on thieves, kidnapers, villainous American cowboys and sinister Chinese tong hatchet men, but he often finds that his arch-enemy, Bill Archinoy, is behind the crimes he is investigating. The high point of Oscar-Bill's career is his clash with Professor Mephisto, which takes Oscar-Bill into Mephisto's electric underground city. ("Érik"/André René Jolly's Oscar-Bill le roi des détectives dans ses exploits extraordinaires #1-26, 1931).

The Italian air pirate known as "Will Sparrow" begins preying on air traffic across Europe, using a technologically-advanced aircraft. (Kurt Caesar's Will Sparrow, il pirata del cielo).

Rolf Torring encounters Hans Farrow. (Rolf Torring #92).

The Spanish police inspector Venancio Villabaja begins fighting crime. Villabaja works in Madrid, aided by fellow officer Juan Bandells. Villabaja successfully relies on a combination of logic and intuition. (E.C. Delmar's Venancio Villabaja novels, beginning with El Misterio del contador de gas).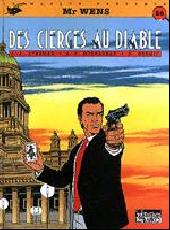 The suave and charming French detective "Monsieur Wens," a.k.a. Wenceslas Vorobeïtchik, begins solving crimes. (Stanislas-André Steeman's Monsieur Wens novels, beginning with Six Hommes Morts, 1931).

1932. The French police magistrate Monsieur Allou begins active duty. (Noël Vindry's M. Allou novels, beginning with La Maison Qui Tue, 1932).

The Italian police detective Ascanio Bonichi begins active duty in Rome. (Alessandro Varaldo's Ascanio Bonichi novels, beginning with Le Scarpette Rosse, 1932).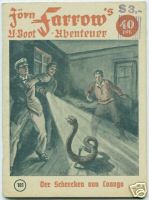 The German naval officer Jörn Farrow begins active duty at sea in a technologically-advanced submarine crewed by a faithful and patriotic group of men. Farrow is the son of Hans Farrow, although Jörn has not seen Hans since his disappearance during WW1. Jörn's adventures take him around the world, from Pole to Pole and sea to sea. Though he deals with many evil men, the most wicked is the man he most often encounters, the sinister Chinese mastermind known as "Lu Wang." Later in the year Farrow encounters Captain Mors. (Hans Reinhard's Jörn Farrow's U-Boot Abenteuer #1-357, 1932-1937, #1-221, 1951-1960). (see 1933 below).

The three masked men known as "The Three Vigilantes" begin fighting crime incognito in Berlin. They are encouraged to do so by Olaf K. Abelsen. (Walther Kabel's Die Drei von der Feme #1-3, in 1933).

The insane French scientist Andreas Vollmer turns a Pacific atoll into a nightmare, full of radio-controlled zombies and victims of human experimentation. (Jose Moselli's L'Empereur du Pacifique, 1932-1935).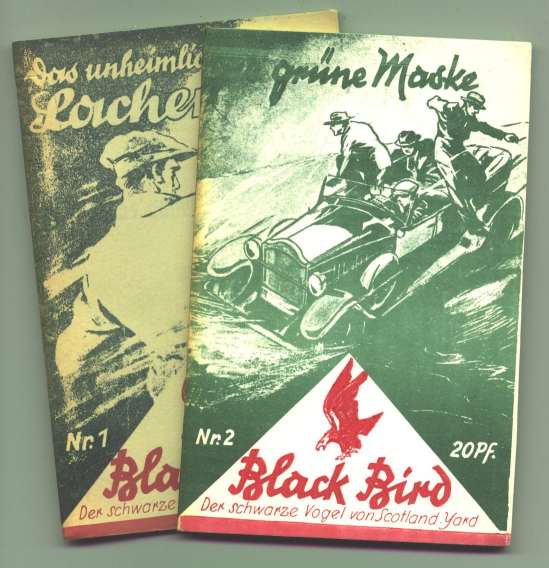 1933. The English "Great Detective Syndrome" sufferer known as "Black Bird" begins solving crimes in London. Although not visually modeling himself on Holmes--he prefers to wear a tuxedo and a pencil-thin mustache--he uses Holmes' personal manner and detective methods. He is assisted by Harald West, a doctor. Later in the year he solves a crime set at the home of the "late Sherlock Holmes." ("Harald West"/Elisabeth von Aspern's Black Bird - der schwarze Vogel von Scotland Yard #1-33, 1933).

The French police officer known as Commissaire Giles begins solving crimes. He is sleek and elegant, with refined tastes and a penetrating intellect. (Jacques-Napoleon Faure-Biguet's Commissaire Giles novels, beginning with Hasard, 1933).

The German crime lord known as "Herr Seltrup" begins manipulating the black market in an attempt to corner the world market in gold. (Hans Heuer's Herr Seltrup Braucht Geld, 1933).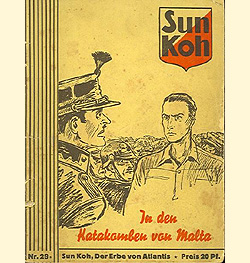 A man falls out of the sky one rainy night and lands in front of a group of amazed bystanders in London. He is tall, muscular, and has bronzed skin; on his back is tattooed a strange map. But he has total amnesia. This does not prevent him from quickly gathering a group of friends and fighting evil as the city of "Atlantis" rises from its watery grave at the center of the hollow earth. The man, who eventually learns that he is German and that his name is "Sun Koh," eventually claims power over "Atlantis" and begins preparing for the ice age which is about to engulf the Earth. ("Lok Myler"/Paul Alfred Müller-Murnau's Sun Koh, Die Erbe von Atlantis #1-150, 1933-1936). (see also 1934, 1936).

The Swedish detective and adventurer Sigurd Williams begins a series of adventures. The influence on Williams of Leo Carring is obvious and heavy. (Sture Appelberg's Sigurd Williams novels, beginning with De döda skeppens vik, 1933).

Rolf Torring encounters Jorn Farrow. (Rolf Torring #100).

Sun Koh, the inheritor of the legacy of "Atlantis," meets a very old but still spry Alaska-Jim. (Paul Alfred Müller-Murnau's "Alaska-Jim," Sun Koh, Die Erbe von Atlantis #49, 1933).

1934. Four heroic German aviators create technologically advanced aircraft, derived from Captain Mors' technology, and use it to fight crime and evil men around the world. The quartet become known as The Four Musketeers, and have a Rogues Gallery of quite wicked individuals: Moloch, the Seal of Satan, the Yellow Dragon, the Black Werewolf, the Blue Tiger, the Vampir, the Czar of the Arctic, the Black Legion, the Scorpion, and Achmed the Dervish. (Die Vier Musketiere #1-52, 1935-1937).

Rolf Torring encounters Captain Holm, the descendant of Axel Holm. (Hans Warren's Rolf Torrings Abenteuer #330, 1935).

Jean Tixer, a young French boy, begins assisting the noted detective Gaston Cervier. (Arnould Galopin's Le Petit Détective, 1934).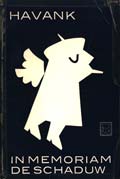 1935. The French Inspector Carlier, called as "The Shadow" by his colleagues, begins working for the Parisian police. ("Havank"/H. van der Kallen's Carlier novels, beginning with Het mysterie van St. Eustache, 1935).



The American adventurer and explorer Don Dixon discovers the subterranean empire of "Pharia," assisted by the German scientist Dr. Lugoff. (Pfeufer & Moore's Don Dixon and the Hidden Empire, 1935-1941). As revealed elsewhere, Dr. Lugoff's ancestry is considerably more elevated than Dixon's.

The French detective M. Dupont begins solving crimes. (Jose Moselli's M. Dupont stories, beginning in 1935).

The American Secret Service operative Anthony Hamilton begins fighting against evil and tyranny around the world, from Moscow to the Far East to Monte Carlo to the Balkans to Central America. His arch-enemy is the Franco-Japanese spy de Graulchier. ("Max Brand"/Frederick Faust's Anthony Hamilton stories and novels, beginning in 1935).



The French lawyer Prosper Lepicq begins solving crimes to help his clients. He is aggressive in pursuit of cases, and often approaches potential clients, rather than waiting for them to approach him. His modus operandi is a combination of logical deducation and instinct. Lepicq is willing to impersonate others and to lie to gain his own ends, but he is a good and brave man who willingly risks his life to help others. (Pierre Véry's Prosper Lepicq novels, beginning with Les Disparus de Saint-Agil, 1935).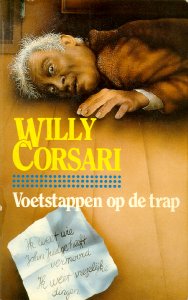 The Dutch police officer Inspector Lund begins solving cases. (Willy Corsari's Inspector Lund novels, beginning with Het mysterie van de Mondscheinsonate, 1935).

The Mongolian secret agent Mâh le Sinistre begins his war with the West. He is one of the German Bolsheviks' best agents in the war with the west. Mâh is a brute and a fanatic, someone who not only disembowels his enemies, typically in seedy hotels in the poorer parts of Paris, but who also takes great pleasure in doing so. Mâh works by day as an exporter in Paris, but by night he steals French military secrets and sells them to the Germans. Mâh is not only a spy but is also a master chemist, who brews up not just "Ecstasy 136," a sure-fire aphrodisiac that he uses on any white woman he desires, but also a gas capable of wiping out Paris' population in a matter of hours. His only weakness is for Muguette, a beautiful French spy who eventually puts a bullet through his head. (Charles Robert-Dumas' L'Idole de Plomb, 1935).

The Serbian police detective Hari Vilsa begins solving crimes in Belgrade. (Vlastimir Belkic's Avanture detektiva Hari Vilsa, beginning in 1935).

1936. Colonel Dubois, the head of French counter-intelligence, begins the long struggle against German and Soviet spies. ("Pierre Nord"/Andre Brouillard's Colonel Dubois novels, beginning with Double Crime sur la Ligne Maginot, 1936).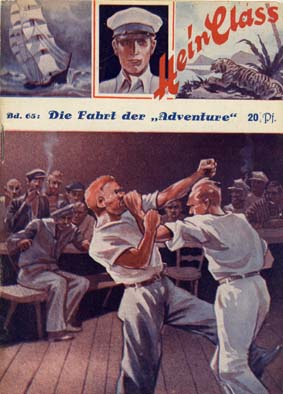 Hein Class, a sailor in the German Navy, begins wandering around the world, fighting various evils and anti-German individuals. (Paul Pitt's Hein Class #1-158, 1936-1937 and 1939-1941). As far as is known Hein Class and John Class (see 1923) were not related to each other.

Bernie Gunther, a disgraced former policeman turned private investigator, is hired to investigate two murders in Berlin. He becomes involved with the higher reaches of the Nazi Party. (Philip Kerr's March Violets, 1990).

The German detective Robby King begins solving crimes. Although based in Berlin, he is active around Europe and the world. (Paul Hain's Robby King #49-85, 1936-1937).



The great German detective Nick Knatterton begins solving crimes. A private detective based in Berlin, Knatterton's cases quickly begin taking him across Europe and around the world. His activities during World War Two are not known, but he resumes work as a p.i. after the war ends and continues on for many years. (Manfred Schmidt's Nick Knatterton (comic strip and film), beginning in 1936). Knatterton is a "Great Detective Syndrome" sufferer but is very successful and transcends simple imitation to become his own man.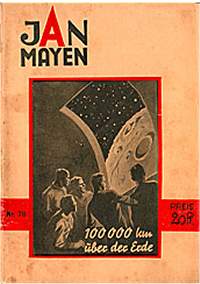 The German adventurer-detective Jan Mayen begins fighting evil around the world. Armed with an atomic-powered aircraft, Mayen travels from Maracaibo to Africa to Ohio. Mayen ends up assisting Sun Koh on a number of occasions and, after Sun Koh has assumed power in "Atlantis," helps Sun Koh transform parts of Greenland into arable territory. (Paul Alfred Müller-Murnau's Jan Mayen, der Herr der Atomkraft #1-120, 1936-1938). The events detailed in the Sun Koh and Jan Mayen biographies are, of course, greatly exaggerated by their individual biographies. While most of the individual chapters of their biographies were based on real events, the world-changing and apocalyptic events described in the biographies are fiction, written to appeal to the German audience.

Captain Stranard, an officer in the Abwehr, is sent to a German province in Central Africa to prevent a group of Soviet-backed rebels from starting a revolution there. (Jocelyn Hardy's Recoil, 1936).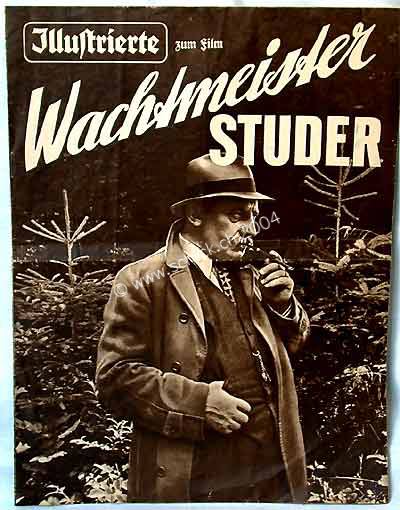 The Swiss policeman Inspector Studer begins solving crimes and keeping the peace in Switzerland, a role he fills for over a decade. Studer uses intuition, a healthy amount of common sense, and a good knowledge of human nature to solve crimes, but inevitably discovers that the lower and middle classes among whom he operates and lives are the victims, and the upper classes vile and bitter exploiters. (Friedrich Glauser's Inspector Studer novels and stories, beginning with Wachtmeister Studer, 1936).

The French private detective Teddy Verano begins a decades-long career of solving crimes and fighting evil. Although Verano is a traditional private eye, his adventures range from the ordinary, albeit tawdry, (cocaine smugglers) to the somewhat more adventurous (fighting spies) to the outré (an alliance of lepers avenging themselves on pretty, innocent citizens) to the outright fantastic (murderers wearing mechanical wings, a scientist capable of knocking down planes with radio waves). Beginning in the 1960s becomes a full-fledged "occult investigator" (occult detective), taking on sorcerous possession, zombies, phantoms, and so on. Verano is tall and slender, with a slightly ironic face. (Maurice Limat's Teddy Verano novels, beginning in 1936).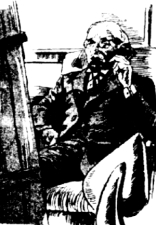 1937. The Italian policeman John Mauri begins a career of solving bizarre cases. Mauri is tall, broad, well-muscled, and clever (if not brilliant), and finds himself solving cases with his fists as often as his brain. Early in the year he is called upon to solve a murder case involving a blue corpse as well as taken on a mysterious supersubmarine manned by a crew of pirates led by Han Wolstein, a violent corsair with a particular grudge against the English, who pushed his brother to suicide. Later in teh year Mauri takes on a ferocious group of Moloch-worshiping Moroccan Thugs/stranglers who live in the dunes and the mountains of North West Africa. These Thugs are an African branch of the Thugs which Sandokan fought and defeated in the 19th century. (Gianluigi Bonelli's John Mauri novels, beginning with Le Tigri dell'Atlantico, 1937).

1938. Turkish policeman Orhan Çakiroğlu begins a decades-long career of patrolling the streets of Constantinople. (Murat Akdoğan's Orhan Çakiroğlu novels).

Bernie Gunther is blackmailed into rejoining the Berlin police by Reinhard Heydrich. (Philip Kerr's The Pale Criminal, 1990). Dick Fulmine begins waging a brutal war on crime in Chicago. Fulmine is a giant Italian-American cop with the build and face of Primo Carnera. Fulmine has to deal with not only the usual brutal Al Capone-style gangsters, but also with individual villains straight out of Nick Carter or Sexton Blake: the female thief White Mask, the evil hypnotist Flattavion, and the gigantic brute Zambo. (Baggioli & Cossio's Dick Fulmine, 1938-1951). It is not known whether Fulmine and Dick Tracy ever encountered each other or worked together, although given that both were active in Chicago it is likely that they were at least aware of each other.

The "Sea Spider," a German gangster, who uses an armed ship to terrorize the North Sea and the coasts of Denmark, Germany, and the Netherlands. (Peter Matthews' Seespinne am abend; eine gangster-geschichte, 1938).

Nazi intelligence hires Zero Smith as an agent. Smith, a good "tough weather" pilot but cranky, devious, and generally disagreeable, is a coworker with the famed aviator Howie Wing. (Wilfred Moore's Howie Wing, 1938-1939).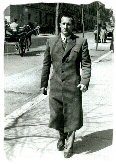 1939. The Italian hardboiled private detective Gino Arrighi begins investigating crime in Rome. He works with Ascanio Bonichi on at least one case. (Alessandro Varaldo's Gino Arrighi novels, beginning with Le avventure di Gino Arrighi, 1939).



Therese Arnaud begins spying for France. (Les Aventures de Therese Arnaud, Espionne Francaise #1-63, 1939).

The Swedish private detective Mattias Beckholmen begins investigating crime in Stockholm. (Kjerstin Göransson-Ljungman's Mattias Beckholmen novels, beginning with 27 Sekundmeter Snö, 1939).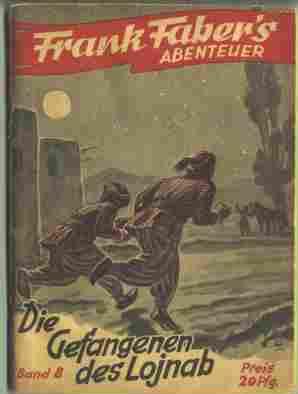 The German-American adventurer Frank Faber begins adventuring around the world. He is active from Kurdistan to Mexico to India. Although Faber's father is American, Faber's loyalty lies with Germany. He is helped by the Irishman Patrick Button. (Frank Fabers Abenteuer #1-52, 1939-1940). It is not known whether Frank Faber is related to Fred Faber (see 1940 below).

A nameless German-American Aviator has a flurry of adventures before the start of World War Two. He is active in the Americas, variously traveling to the "Alligator Sea," settling the "War in the Fazenda," helping to quell a "new American Civil War," fighting along the "Rio Negro," and questing for a "white Indian" in the jungles of the Amazon. (Flieger-Abenteuer #1-6, 1939).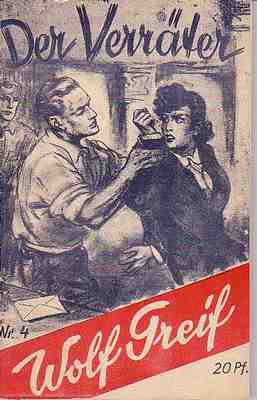 The German policeman Wolf Greif begins active duty on the Rio de Janeiro police force. He is a world traveler and crime solver but is most often active in Rio and South America. He is assisted by Peter Strunz, also a young man of German descent but now a reporter for the Journal do Commercio and the narrator of Greif's adventures. (Elisabeth von Aspern's Wolf Greif #1-6, 1939-1941).

The Italian private investigator George Landi begins solving crimes. Visually modeling himself on Clark Gable, Landi is a cunning and clever detective as well as a master of disguise and impersonation. Ladri takes on blackmailers in Rome, port thieves in London, and gems stolen from sacred icons in the Indian state of Kapurthala. (Gianluigi Bonelli's George Landi comic strips, beginning in 1939).

The French detective Jack Linton begins solving crimes in France. (Jean Ray's Jack Linton novels).


The Finnish Inspector Palmu comes to the public's attention. He is old and irritable, but also wise, and with his assistant Virta solves crime in Helsinki. (Mika Waltari's Inspector Palmu novels, beginning with Kuka Murhasi Rouva Skrofin? 1939).

The heroic thief Sigono begins robbing from the rich and cruel and helping the poor, widows, and orphans. (Edward Brooker's Sigono contre la police, 1939).

The Serbian masked vigilante Zigomar (II) begins active. He wears a costume not dissimilar to that of the Phantom and carries an engraved ring with the raised letter Z on its face. Zigomar's companion is a short Chinese man named Chi Yang. (Navojev & Vidic's Mikijevo carstvo, 1939).



1940. The German adventurer Fred Faber begins a series of adventures around Europe, fighting for the Reich. He is not a member of the German armed services, but is an independent adventurer. He is assisted by his German friend Hein Lemke. (Richard Blasius' Fred Fabers Abenteuer #53-124, 1940-1941). It is not known whether Fred Faber is related to Frank Faber.



The Italian police official Commissioner Emilio Richard begins solving crimes in Rome. (Ezio d'Errico's Commissioner Richard novels, beginning with Qualcuno ha bussato alla porta, 1940).

The French spy known as "T-4" for France's Deuxieme Bureau and whose real name is Gisele Tubouef begins fighting against the Germans in occupied France. She is assisted by the Canadian superspy IXE-13. (Pierre Saurel's Les Aventures Etranges de L'Agent IXE-13, L'As des Espions Canadiens #1-960, 1940-1967).

At the request of Scotland Yard the Italian detective Mark Villa takes on a case of English counterfeiters. (Gianluigi Bonelli's Mark Villa, 1940).

The Turkish detective Recai has a friendly joust with Arsène Lupin. (Peyami Safi's Arsen Lupen Istanbul'da, 1940).

1943. The French private detective Francis Bayard begins solving crimes. (Jean des Marcenelles's Francis Bayard stories, beginning in 1943).


Harry Friberg begins a decades-long career as a crime solver. Friberg is a Swedish photographer and amateur detective active in Stockholm, a city with witty and friendly people, an agreeable atmosphere, and a constant stream of miraculous pleasantness. Friberg himself is tall, with a happy-go-lucky disposition; he is a skilled photographer, but is initially drawn into solving crimes in order to help his friend, Inspector Vesper Johnson. As time passes, Johnson regularly calls on Friberg to help him. They are an odd pair, Friberg being fat and loving his food and Johnson being small, vain, melancholy and a snob, but they work well together. Friberg's cases often end up involving industrial espionage as well as the more political variety. (Stieg Trenter's Harry Friberg novels, beginning with Ingen kan hejda döden, 1943)

The Berlin police detective Detective Koloska pursues a group of a dozen corrupt industrialists across Europe, starting in Berlin and finishing in Copenhagen. Known as "Shiva" for the persona he assumes during interrogations (to scare criminals), Koloska is so full of eccentricities that other officers compare him to C. Auguste Dupin. He is physically similar to Sherlock Holmes, but is irate when people mistake him for the "miracle detective." (Felicitas von Reznicek's Shiva und die Nacht der 12, 1943).

The German detective Rolf Petersen takes on a diamond-smuggling ring located in occupied Copenhagen. The ring is actually controlled by American gangsters, leading Petersen to dismiss America as "the paradise of the gangsters." (Paul M. Brandt's Karins Versprechen, 1943).

1945. The Italian hero Jack Hilton begins a long series of adventures. Hilton is an engineer and adventurer who stumbles upon the jungle lab of Professor Salvor. Salvor gives Hilton a drink which makes him superstrong and invulnerable. Hilton becomes Tanks, the Steel Man, and sets about using his superhuman powers for good. He fights various colorful enemies, including the robed Mysterious Seven, and eventually marries his former enemy Maruska, Queen of the Time Pirates. (Tanks, l'uomo d'acciaio, beginning in 1945).

With the end of the war the gentleman burglar known as "Mister Nobody" (II) begins committing crimes in France. (Edward Brooker's Mister Nobody, 1945-1946).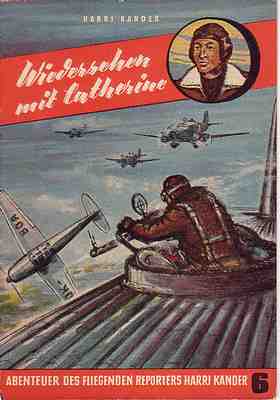 1946. Former German air ace Harri Kander begins working as a reporter in eastern Germany. After the division of Germany, Kander becomes a reporter for the East German news who traveled around the world fighting decadent capitalist swine. (Karl Heinz-Hardt's Die Abenteuer des Fliegenden Reporters Harri Kander #1-15, 1957).

Timeline: To 1800.
Timeline: 1801-1859.
Timeline: 1860-1900.
Timeline: 1901-1910.
Timeline: 1911-1920.
Timeline: 1921-1930.
Notes.
Some Unknown Members of the Wold Newton Family Tree.